Yoga mats review
Gear & accessories
|
Friday 11th September 2020
Whatever the discipline, when practicing regularly it is important to be equipped appropriately. Yoga has the advantage of not requiring a lot of equipment. Some purists will tell you that you don't even have to have a mat. It's true, however when you're just starting out or when you practice every day, I would tend to recommend using a mat. Both for comfort and for the idea of ​​delimiting a personal space for this inward practice.
When I started, I used mats from the studio I was practicing in. Without being aware of my luck, I practiced from the start on very good quality mats (Lululemon - 5mm). It was only when I tested other studios whose props were not as good quality that I understood the impact that a yoga mat can have in one's practice, and the benefits of a good mat. I have listed here the 5 qualities that I look for in a mat, as well as a list of recommendations to help you make your choice, depending on your use and the intensity of your practice.
Thickness of the mat: a matter of use and comfort
The more time you spend on your mat, the more you progress in your practice, the more likely you are to end up with your knees, head, or elbows on the ground, often in unstable balance. Hence the importance of having good cushioning! Generally, yoga mats come in 3 thicknesses: 1mm/1.5mm, 3mm and 4mm/5mm.
Travel mats
1mm/1.5mm mats are generally referred to as travel mats. They can fold - in addition to roll - without damage. It is therefore easier to put them in a suitcase when you go on a trip (and you don't want to stop practicing #yogaeverydamnday). The other advantage of 1mm/1.5mm mats is the weight. They are indeed very light and will not bother you when joining your friends for your traditional post yoga brunch. On the other hand, such a thin mat will not provide much cushion. You should therefore be very careful when practicing on hard surfaces (such as tiles or concrete). But then, is it the right choice? Well, besides the practicality and mobility of travel mats, when choosing a good quality one, it can turn a thicker, poor quality mat into a good one. You only need to put it on top to appreciate its comfort, while keeping the benefits of the thickness of the underneath mat. This will allow you to be certain to always practice on a good mat, whatever studio you go to.
Personally, I chose the eko® superlite travel yoga mat 1.5mm from Manduka . Very light, good grip (even though it gets slippery when you sweat), made of natural rubber and without toxic chemicals.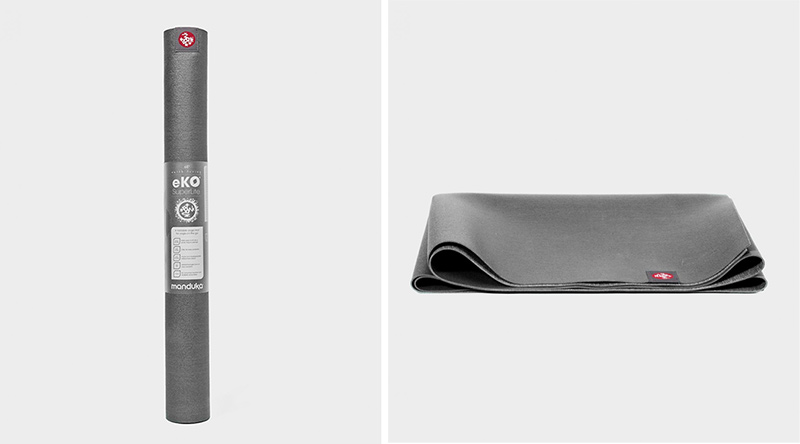 On the go mats
The range above in terms of thickness is generally around 3mm. A 3mm mat offers a little cushioning which is not negligible. You can already feel the difference between a travel mat and a 3mm mat. On the other hand, again depending on the intensity, the poses and the frequency of the practice, you can end up feeling pain in the joints directly in contact with the mat. However, 3mm mats are generally still quite light and easily transportable. They are not made to be folded into a suitcase, but their weight (around 1.5kg) allows them to be carried to classes without it being an issue.
I use my 3mm mat when teaching because it allows me to demonstrate the poses without hurting myself, and it's light enough so I can commute with it all day. I chose a Jade Travel (3mm) mat because it offers excellent grip, and because the JadeYoga company plants a tree for each purchased mat. Their products are made of natural rubber, and are PVC and EVA free.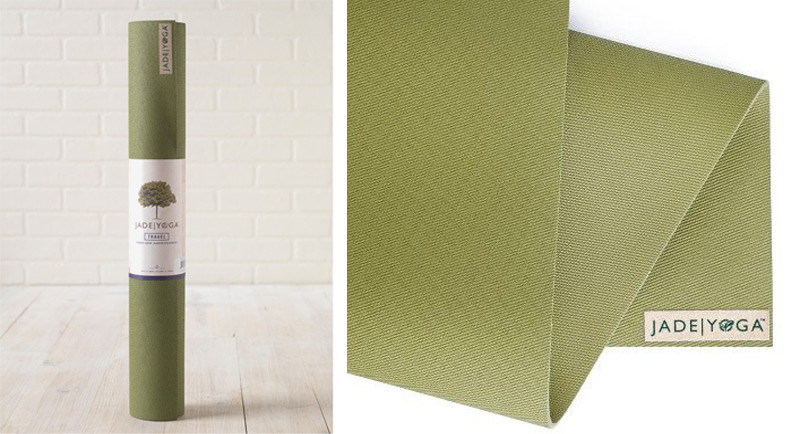 Thick mats
If you have a home practice, I strongly recommend that you purchase a 4mm/5mm mat because you'll immediately feel the difference. The cushioning is excellent without being too soft (which would make you lose your balance), and the weight of the mat allows it to stick to the floor and not move. Which is great when you leave your mat at home, but becomes an issue if you want to take it with you for your studio practice.
Coating: for health and safety
For me, the type of material used on the top of my mat is really the thing that will have the most impact on my practice. 4 years ago, I bought a mat from an American brand that offered very fun designs (cats, donuts etc...) without paying attention to the coating. It was a basic "waffled" mat like you can find everywhere. Unfortunately these mats crumble very quickly (and leave bits after you), and they also become very slippery as soon as you sweat a little. If like me you enjoy dynamic practices, it becomes impossible to concentrate on your breathing and movements because you're too scared of falling.
However, the type of coating adapts to your practice. For example, the Jade mats material that I mentioned above, although not absorbent, is pretty rough and has some grip. This can be enough when practicing dynamic but moderate yoga. Likewise, cork mats offer very reasonable grip and are an eco-friendly, original and often inexpensive alternative. If you are into hot yoga, soft-coated mats are a great option because they act much like a 2-in-1 towel mat (and are also easier to wash). On the other hand, you absolutely have to sweat for these types of mats to be effective: without humidity, the soft coating is very slippery!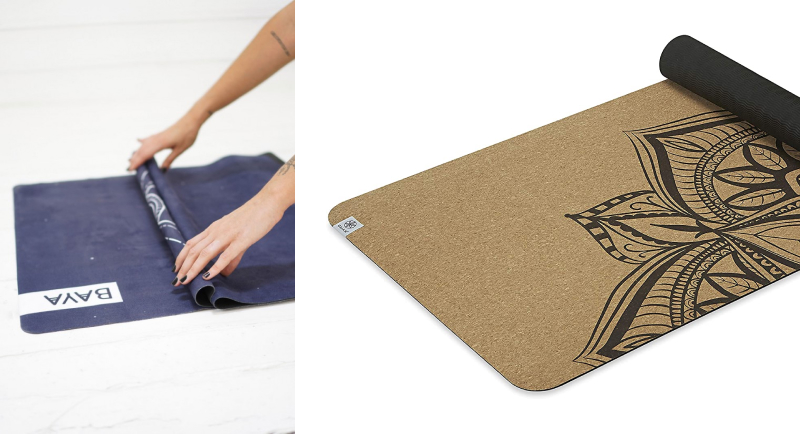 Personally, I practice very dynamic yoga. The Rocket Yoga sequence offers a whole bunch of opportunities for acrobatic transitions based on inversions. So I need a mat that offers perfect grip whether I sweat or not. Lululemon mats, for example, feature a smooth coating treated to absorb moisture. This is a polyurethane layer that provides good and permanent grip because perspiration is instantly absorbed. These mats are also treated with an anti-bacterial product to prevent any mold.
Design: a plus that helps with alignment and motivation
Remember that your yoga mat marks your "sacred" space. The area where you focus on yourself and feel safe. It is therefore essential that your mat inspires you well-being and invites you to practice. In terms of graphics, Baya mats are in my opinion the most beautiful. The French brand regularly signs collaborations with artists and now even offers to personalize your mat . In a more classic style, Liforme mats - a reference in the yoga world - regularly offer themes such as the Chinese New Year, and a choice of bright colors that will delight everyone. On top of that, Liforme mats have lines and dots that tell you how to position yourself on the mat. It's very handy, especially when you're just starting out, to check your alignment.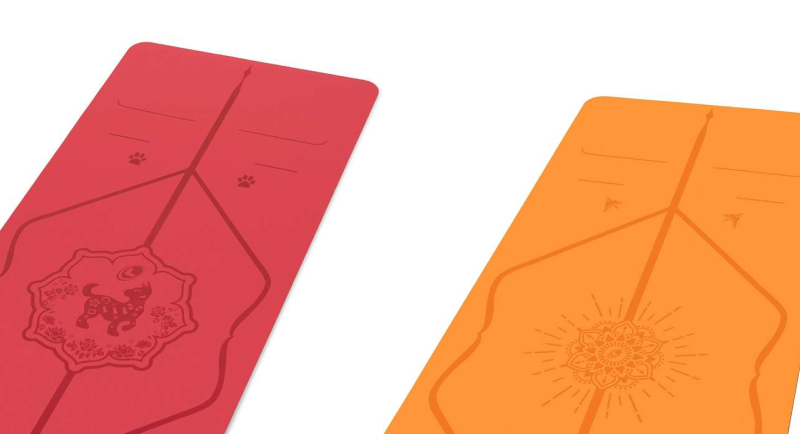 Materials: an eco-friendly and sustainable mat
Another fundamental point, given a yogi always apply the principle of non-violence - ahimsa - it seems obvious to try as much as possible to reduce the impact of our purchases on the planet. All the brands mentioned in this article offer mats made with natural and sustainable products, PVC free and biodegradable. It would not be conceivable for a brand aimed at yogis not to be concerned about the impact on the environment. You will find on the websites of each of the brands mentioned in this article, information on materials and manufacturing processes.
The price
Finally, let's talk about budget. A good yoga mat, environmentally friendly, with good cushioning, a non-slip coating and a satisfying design, can quickly become expensive. And that's the problem because when you start, you don't necessarily want to immediately invest in a £100 mat. But as we have've seen, the quality of your mat can transform your practice, and it would be a shame if a bad mat gave you a bad idea of yoga. I recently discovered the "Dynamic grip yoga" range from Decathlon and honestly, I am sold. This mat is available in 2 thicknesses (3mm and 4.5mm), and in several colors (including a very pretty yellow in limited edition at the moment!). It's very affordable because the 3mm costs £29.99, and the 4.5mm £34.99, which is more or less half the price of a Lululemon or Liforme mat. It is now the mat that I recommend to my students who are just starting out and want to buy their first mat to practice with me. An excellent quality/price ratio, and respectful of the environment.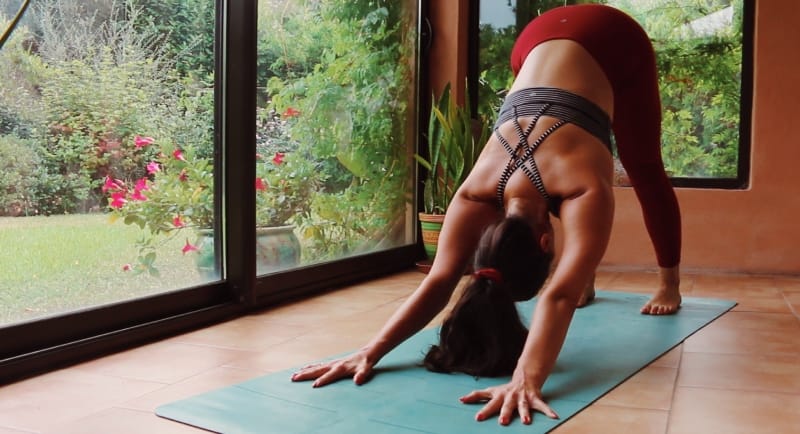 Hope this article will help you choose your mat based on your practice. This is not a sponsored article and I have personally tested all the brands mentioned in this article. However, if you have other brands to recommend, do not hesitate to share your favorites in the comments section.